Nancy Matthiessen RD, MAS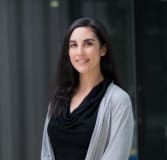 Nancy Matthiessen is a registered dietitian and certified specialist in pediatric nutrition. She provides medical nutrition therapy for children with a wide variety of conditions. She has particular interests in caring for children with cystic fibrosis and children with gastroenterological diseases or disorders. She assesses her patients' growth and nutritional intake, and recommends therapeutic diets to help manage their conditions and support their overall health. She works closely with families whose children need tube feedings to ensure their nutritional needs are met and growth goals achieved.
Matthiessen has a special interest in working with families to cultivate child feeding practices that promote a positive relationship with food and support lifelong health.
Matthiessen earned a bachelor's degree in clinical nutrition and a master of advanced study degree in maternal and child nutrition from the University of California, Davis. She completed a dietetic internship at University of Virginia Health.
In her free time, Matthiessen enjoys cooking and baking, as well as outdoor activities, including hiking, backpacking and scuba diving.
---